Light is a complicated thing to understand, so we are going to try and simplify it for you. Each room can have different requirements and purposes for lights so we are going to give brief details of what these requirements are and how best to light your room to match this.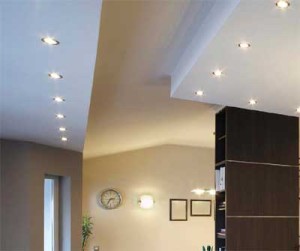 Living Rooms/Libraries/Studies
For these rooms, subtle lighting is the way forward. General or background lighting from downlights appropriately placed will give the room the best ambiance and will light it most effectively. Downlights can be used on their own or with floor standing lights for extra light, which, should you not want them to be as visible can be hidden behind plants, furnishings or decorative objects in the room.
Floor standing lights can be effective in providing light in a softer way to the light that comes from standard central ceiling lights. It is important to take into consideration that if you are looking at floor standing lights, rewiring the room could be important so as to have them in the places you want them. Another possibility is to have all the portable lights on a separate circuit. A lot of the time, floor standing lights can mean there is a lot of bending down to switch the light on and off but this is preventable with the use of kick switches, where you can turn the light on and off with your feet and avoid any unnecessary bending up and down!
Finally additional light can be put next to sofas or to light up paintings or bookshelves on walls. This lighting is more for decoration or if close work is needed. If you have a desk and need focused lighting on a desk, desk lighting is possible, but if it is very specific lighting needed a downlight could be more appropriate to stream strategic light. Accent or decorative lighting will be the "piece de resistance". This light is best coming from spotlights, which can be tilted to focus on something in particular – as said earlier, to light up a painting on a wall or a bookshelf.
Overall it is important that all the lighting works together and compliments each other to light the room effectively, making use of the space to compliment the natural light.
Dining Rooms
This is one of the most popular rooms that people want lighting for but also one of the most challenging that people struggle with. It is suggested that you light the room separately, so having lights above a table would be the best way to light the serving area; this will ensure the table is the focal point of the room and it is essentially where light is really needed. Elsewhere in the room romantic, discrete lighting compliments the look for the room. A few downlights would be perfect for this situation with the added light of candles – mainly for effect – but ensure the candles are above or below candle light so that they aren't in direct eye line.
It is suggested all lights in the dining room are dimmable. This will mean that the ambiance can be changed and the lighting can be altered depending on the situation.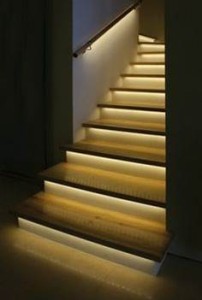 Hallways and Staircases
A hallway or staircase is where there should be the best lighting – they should be lit at all times! Unfortunately so often this isn't the case and there is inadequate lighting for the spaces. If the level of the floor changes, there should be lights on the floor to show this changes – this is more frequently used in staircases than hallways. These low level lights can also be left on when the main lighting isn't needed which will insure the hallways aren't left in complete darkness.
Bedrooms
Alongside the main lighting in the room, bedside lamps and mirror lights are also frequently seen in bedrooms. Bedside lamps especially for reading before bed; the light should be at a level so that it shines directly onto the book. The bottom of the light should be in line with your shoulder – this shows that the area has been most effectively lit. They should also be dimmable so that the glare can be changed and controlled, and so your partner wouldn't get disturbed as well.
For lights around a mirror (this probably is more important for females!), there should be a light above the mirror as opposed to down the sides. Lights placed down the sides are a lot less helpful and don't illuminate your face as effectively when you look into a mirror. This is also the case for full length mirrors; the light shouldn't light up the mirror but the person looking in them.
Children's Rooms
For safety, all electrical sockets should be child proofed and all light fittings out of reach of small children. Electricity is not something you want the child to get a hold of! Wall lights would be best for this, as all other sockets children could get potential reach of. Wall lights are good because they won't give as harsh light as ceiling lights and it will be softer and subtle. There is also the option of having these lights dimmable for children that might not like sleeping in the dark.
For children who might not need as much protecting from electrics, desk lamps or floor lamps could be used for lighting up desks when they have homework or if simply like to read in bed. These lights could be provided on desks or above beds.
Kitchens
Kitchens need good overall light – there is no point only lighting sections of the kitchen. For the kitchen, we recommend general lights on the ceiling which would provide good lighting with the added possibility of having spotlights for effective and to light up certain aspects of the kitchen for decoration and purpose.
Booster lights for worktops or areas where specific lights will be needed would be practical; strip lights under cabinets or downlights in these areas would be the best use of space and give the best lighting.
Summary Points
We hope you have found this article helpful, below are a list of the points we think are most important to help you light your rooms.
· Downlights for strategic lighting.
· Adjustable spotlights for accent or decorative lighting.
· Dimmable lights in Dining Rooms.
· Low level lighting in Hallways or Staircases, so that they aren't left in complete darkness.
· Dimmable bedside lighting.
· Lighting above mirrors not to the sides.
· Downlights/Strip lights in kitchen to illuminate the worktops.