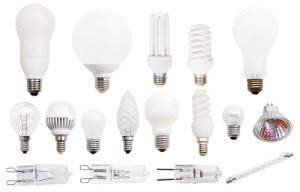 LED GLS
GLS stands for General Light Shape; this is the standard most common light bulb used. These light bulbs have been around for a long time – they were originally incandescent but have since been remade due to incandescent bulbs being banned. The LED GLS bulbs are much longer lasting than incandescent bulbs and because they use LED technology they are expected to have lives of up to 30000 hours.
LED Filament GLS
LED Filament GLS bulbs are where the filament is on show; they are used more for decorative purposes, or in fixtures where the bulb will be visible. The bulb can have up to 8 filaments which are omni-directional because they are designed in such a way that light is emitted evenly.
LED Candle
LED Candles are mainly used in decorative fixtures and chandeliers. The shape of the candles is one that resembles a flame. There are two different types of candle flames; a standard tip and a flame tip. The flame tip is similar to an actual candle flame which is why they are used so much in chandeliers because they are like the first chandeliers.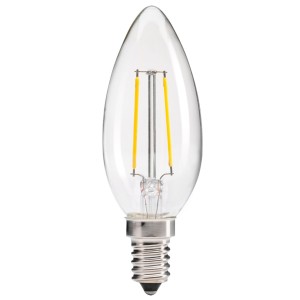 LED Filament Candle
LED Filament Candles are the same shape as Candle bulbs themselves but with a different touch because they have the visible filaments in them. These can add a modern touch to a traditional chandelier which is why they are becoming increasingly popular. It is also because the filaments mean that they have omni-directional light which adds more sparkle to crystals.
LED Filament Golf Ball
Golf Balls are smaller and rounder than the traditional GLS light bulb. They have a general use and can be used in residential situations or commercial. The visible filaments make them perfect for any decorative fixtures. The shape of the bulbs compliments the filaments because it means the light emitted will reach further and look brighter.
LED PL lamp
LED PL lamps have a directional light which means they light a specific area. The LED version of these bulbs means that they have a longer life and are much more reliable and consistent. LED PL lamps can come in different colour temperatures so the light colour can be appropriate to what is being illuminated.
LED G4
LED G4 capsules are direct replacements for halogen G4 capsules. They save a lot more energy and have a much longer life. The LED G4 is made up of diodes which emit light – these diodes don't give out any heat which helps save more money. The diodes surround the capsule which means they are omni-directional and give out even light.
LED G9
LED G9's are direct replacements for standard G9 halogen capsules. They give off minimal heat, save energy and have a longer life than the halogen capsules. They emit light equally and in different directions to make them more versatile.
LED Filament G125
The LED large globe bulb is decorative as well as energy efficient. The bulb itself is of a vintage style and is similar to Vintage Filament bulbs but better because it has LED technology. The filaments are shorter and towards the end of the bulb itself which means the light travels further.
LED Filament ST64
ST64 is a squirrel cage shape; this shape bulb isn't particularly popular as it doesn't fit in with many fixtures, but it is becoming used more and more when hung from flex. Especially because this bulb uses LED technology and so it is energy efficient. It undeniably has the glamour of incandescent bulbs.